The complete period car radio supply, restoration, repair & upgrade specialist.
" The first car radio was fitted to the passenger door of a Ford Model T in May 1922 by 18 year old George Frost. "In November that year, the first radio was installed in a Daimler limousine by the Marconi phone company & displayed at the Olympia Motor Show in London"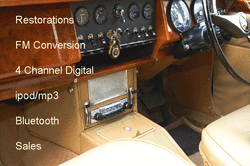 Welcome to Vintage Car Radio where we offer a comprehensive service for anyone wishing to purchase
an authentic period radio for their classic or vintage car or for anyone who already owns a period radio
which is in need of repair or restoration. In addition to this we also offer the benefits of the latest 21st century technology by adding an ipod/mp3 connection to your radio or by adding an fm tuner. Neither of these modifications will compromise the originality of your radio as they are unobtrusive & can be removed at any time leaving the set in its original condition. We also offer full 4 channel stereo digital conversions with the option of Bluetooth to give you the ultimate in car entertainment package. Please enter the site for full details.

---